The inspiration came in 2002…
When I started Jet Set Spice Company, it was with a sense of purpose. To be a reason for people to continue cooking at home.  To defy the trap of frozen convenience food, and realize that feeding yourself is so much more than the act of eating.  Every time we cook at home, for yourself or the people we care about, we enrich our collective food culture, we make memories that last generations and we reclaim, even for ourselves, the right to decide what is in the food we eat.

 – Chef Steven Popp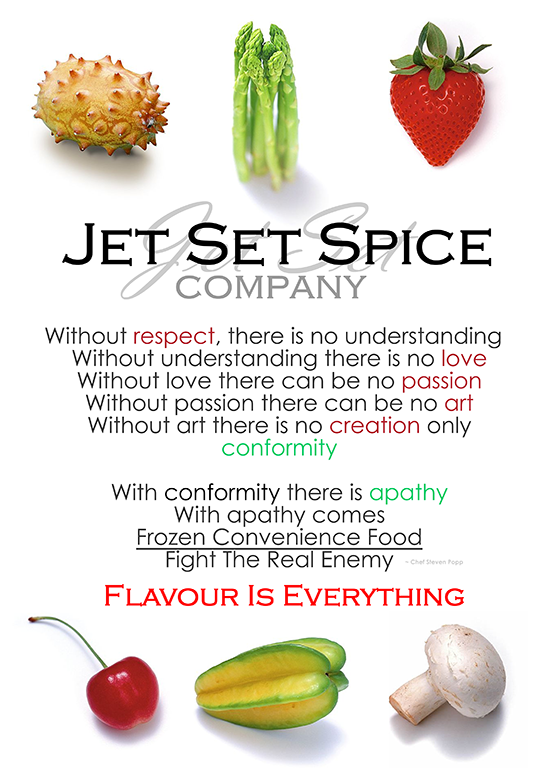 Our commitment to classic techniques
CHEF STEVEN POPP
FOUNDER
A 30-year industry veteran, Chef Steven has spent his life and career pursuing amazing culinary experiences both behind the line, as a customer and as a Collegiate level Culinary Instructor
When it comes to preparing our cuts of Pork, Beef and Chicken to smoke on our smoker, we take a very "old-school" approach.  In the modern era of Barbeque cooking in North America, there are all kinds of techniques used to cut cooking time, increase weight by injecting and using phosphates to accelerate tenderness, but I can't abide by these shenanigans.  At MFBC, we keep to the roots of how this food is meant to be cooked.
It's all about the marriage of Meat and Spice, Fire and Smoke and the wonders that you can create with those simple elements.  
We keep it honest and pure and feel that you can taste the difference that commitment makes when you eat our food
THERE IS SMOKE IN THE AIR
When Lori and Steve opened Memphis Fire Barbeque Company, it was a direct result of the love and appreciation for the "old-school" approach that true Southern Barbeque must have.  It's all about the right selection of everything involved, and then having the patience and time to ensure that you can keep up with the demand if you're good.
Here's the basic information about the heart of what we do here at MFBC.
Smoker :                      

OLE HICKORY PITS model SSE

Smoker Setup:          

Offset – Rotisserie

Fuel Source:              

Split Log / Natural Gas Log Lighter

Wood Choice:          

Smooth and Shaggy Bark Hickory

Smoker Capacity:  

 500+ lbs of Meat

Meat Smoked to Date:

500,000 +lbs
one bite, you'll understand why we're different
When we say "from scratch", we mean it – really. 99.6% of our menu items are made entirely from raw products that come from our local and national vendors. We are constantly preparing food from a fresh state, which is no small task when you feed over 80,000 people a year and only have 20 cubic feet of freezer space, 10 of which is solely for ice cream. When you combine a hyper focus on freshness and combine that with some of the best technically qualified Chefs and Cooks in the industry, you get consistently loved food that is comfortable and delicious time after time, visit after visit. We think you'll agree when you visit Memphis Fire Barbeque Company, that all this extra attention is worth it.
Open this in UX Builder to add and edit content
growing up in canada i barbecued right?
What is Traditional Barbeque
The fact that I have even written this sentence is pure admission to being a Yankee, as was plainly obvious to those at Scott's BBQ when Chef Lori and I arrived on our recent trip back to South Carolina.  You see those of us in the North, of which I assume most of us who are reading this article are, just don't really understand what traditional (read real) Barbeque is.
I've dedicated a majority of the last 18 years of my professional life to truly understanding the art of cooking meat using wood smoke and extended periods of time at low heat.  I have been consumed with getting it right, but it doesn't "course through my veins", it's not directly part of my lineage and it is not part of my heritage either, or is it?. What drew me to learning and adapting a style of Barbeque from South Carolina was the heritage of those who developed it in the first place.  Being of Scottish, Irish, English and Germanic origin, I found myself drawn into learning more and more about the Scottish and Germanic influences that shaped Carolina Barbeque.
I grew up associating the term barbeque to be synonymous to grilling; in reality, they are in no way close to being related other than cooking meat with heat.  I realise that this is true for most Canadians, as for the most part people refer to our restaurant as Memphis Grill, which is hilarious to me, considering we don't actually grill anything.  We can't, by the way, we don't have a charbroiler to do so.
… people refer to our restaurant as Memphis Grill, which is hilarious to me, considering we don't actually grill anything – because we don't have a gas charbroiler…
Read the entire article here
Pulled Pork
At Memphis Fire, we use New York Pork Shoulders that smoke for a minimum of 24 hours at 175°F, so low and slow that it melts in your mouth. We pull and sauce to order so the meat is never dry or over saturated with sauce.
Beef Brisket
Our Briskets are rubbed with Memphis Fire Dry Rub and our House Brisket Mix, then smoked slow and low at 175°F. As with any tougher cut of meat that is well aged, your reward is the great flavour. Cook that cut properly and you're left with tenderness, ensuring it's well marbled allows you to enjoy both, as the fat allows flavour compounds to be transferred to your palette as it melts in your mouth. Our Brisket is not available as a lean cut, with full slices not guaranteed, because it's just that tender.
Smoked Chicken
We've got you covered for Chicken, and then some.  Aside from our Famous Boneless Fried Chicken, we are proud to offer our Half Smoked Chicken Entree from 4:00 pm as part of our Dinner Menu.
Crispy Drums & Wings
We've got tiny wings and we cannot lie.
In the beginning, we tried smoking a "Roaster" sized wing.  What we found was that they didn't absorb the smoke well, and in the end they always had a gummy texture in the middle, closest to the bone.  Now we could have used "seasoned" wings and kept the King Sized wings, but…
Like we've said before, we don't believe in funny business, and wings at Memphis see the same simple treatment as our burgers.  Seasoning and Smoking, that's it.